Nordic Centre Notes - April 2021
Thursday April 8, 2021
Wow, what a year. We started early (Nov 21) and it looks like we will be skiing through most of April. How did this happen? Yes, we had enough snow and it was cold enough, but it wasn't a lot early on and there was lots of water in the soils from the wet summer/fall. Look into some of the ditches mid-winter and you could still see bare dirt and moving water. Opening early and continuing late was made possible by the trail grading and drainage work over the last 4 summers. The other factor was an awesome grooming crew. Seasoned and new operators, led by Head Groomer Patrick Dumais, did what was needed to provide great trail conditions despite early low-snow, mid-season snowstorms and occasional machine breakdowns. Big thanks to Patrick's team: Bryan Swansberg, Brant Dahlie, Mark Williams, Kelsey Stasiuk, Kevin Kriese, Dick Harrison, Geoff Recknell, James Cuell, Michel Poulin, Adrian de Groot and Sean Fraser.
For those who are interested in knowing more, here are some notes about what's been happening, what's new, and what's planned for the trails, machines and buildings of the Bulkley Valley Nordic Centre. This is a bit of a long read, but worth it if you want to find out about:
Completion of trail improvements and planning for the future
New swamp bypass trail,
New Dog Trail Coordinator who is keen to explore new ideas,
New grooming report system for next season
New tracked quad and G2 groomer
What we can and can't do with our grooming fleet
New machine garage and shed upgrades
Wildfire risk reduction
Trails
The Trail Plan page on our website summarizes the many recent improvements to our trail network. Since 2017, we have invested almost $200,000 on trail work. Major funders have been the Province of BC Rural Dividend, Recreation Sites and Trails BC, Wetzin'kwa Community Forest, and the BV Cross Country Ski Club. The last of the upgrades will hopefully be completed this summer and next.
A new trail plan is being developed to set out priorities and possibilities for the future. Previous suggestions, discussions with a focus group and the club survey are all contributing to this next plan. Members will get to review the plan when it is ready later this spring/summer. (On our website, find Bylaws, Policies & Plans under the Our Club menu.)
The Pine Creek swamp can be a challenge any year but was especially problematic this ski season. We never opened the swamp section of the Pine Creek trail due to thin ice; caused by the mild winter, the ongoing water flow from saturated soils, and possibly some new dredging by beavers. Another problem spot nearby was the 5 km cut-off where it crosses a wide creek. Every year, these two problem areas usually delay the full opening of the Pine Creek loop. We are working with Recreation Sites and Trails BC on a proposed new section of trail that will eliminate the swamp crossing, provide a bridgeable creek crossing, improve grooming efficiency, allow earlier skiing and is safer for skiers and machines. It will be a shame to lose the scenic swamp crossing but we feel the benefits will greatly outweigh the loss.
Proposed trail to bypass swamp and replace 5 km cut-off.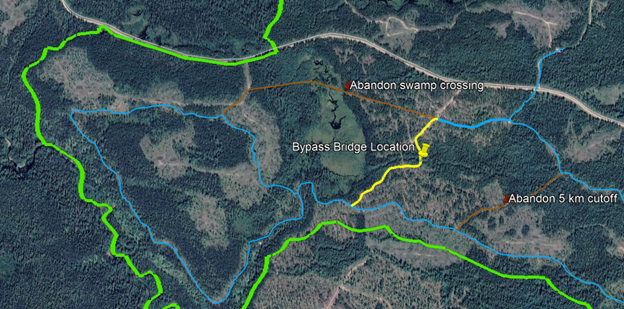 Dog Trails
Our dog trails started with just the 5 km Pooch Paradise in 2005. Hound Heaven added 2.5 km in 2011 and Wild Dog added 3.3 km in 2018. Recent summer work improved trail surfaces and drainage so the trails are available earlier in the season. The dog trails are groomed more frequently than most other trails due to the high use but also due to the extra impact of running dogs compared to skis.
To handle this year's increase in use, the lower parking lot was plowed wider and more frequently than normal. Controlling dogs has always been required but this year there was in increase in complaints from people with and without dogs. Most of the incidents were in the parking lot and before the tunnel so the club asked everyone to leash their dogs until after tunnel. Leashed dogs in parking lots and the start of trails is normal practice for many dog trails in BC. Compliance was very good, although there were a few strong complaints about the change. We can't compromise on safety, but we will explore ways to improve parking and ways of getting safely to the start of the dog trails.
Kerry MacLean came up with the idea and the manpower to install and maintain shovels along the trails and a garbage can at the parking lot. Kerry's initiative made him a great candidate for a new position: Dog Trails Coordinator. Kerry provided the following:
As a frequent user of the dog trails at the BV Nordic Center and someone who is keen to improve the experience for both dog owners and non dog owners, I am happy to take on the role of Dog Trails Coordinator for the upcoming winter.
As someone who only really got into cross country skiing during winter 2019/2020, I am what you might call a newbie to the sport. I initially only started going up to the Nordic Center as it seemed like a the easiest way to wear out our two energy filled dogs during the winter months (if you ski at night you have probably seen them with their light up green and red collars) . Although this still holds true, I quickly realized that I enjoy much more than just having sleepy dogs. I discovered that skiing is way more fun than running (the usual get-me-out-of-the-house activity), and because I am so new to skate skiing, it has given me something to focus on during the pandemic and try and improve my technique and ultimately tire the dogs and myself out.
In spending time at the dog trails, I have bumped into many people on the trails who are delighted that the dog trails exist, and they often have suggestions on how to improve the experience. With all the great suggestions coming in (different ways to get to the trails, change trail directions, garbage at the parking lot, waste shovels along the trails, future trail additions), we think it is worthwhile having someone who can commit some time and attempt to make these ideas a reality.
My goal is more or less act as a middleman between the weekend warriors out on the trails with or without their dogs, and the managers at the Nordic Center. I will be up there a handful of times throughout the week and hope to get the chance to chat with as many of you as I can about the dog trails. I will also be checking dogtrails@bvnordic.ca regularly, so any questions, concerns, or big ideas can be sent my way and I will do my best to respond and bring your thoughts up the chain of command.
Looking forward to seeing you out on the trails!
Grooming Reports
This year we added to our snow condition reporting by having two webcams. The snow stump is relied on by the groomers to see how much snow has fallen since the last grooming.
After a month of testing, we decided to adopt the new Nordic Pulse grooming report system. This is a new, made-in-BC system that is already being used by many other clubs across the country. Check out the reports of other clubs at Nordic-Pulse.com. Grooming operators use a phone app to record where they groom and the information gets uploaded every time they get into wi-fi coverage near the lodge. The browser-based reports are enough of a reason for us to use it. But there will be more. Nordic Pulse is working on iOS and Android apps for skiers; with GPS location, xc ski trail directions, push notifications when your favourite networks are groomed, offline maps and more.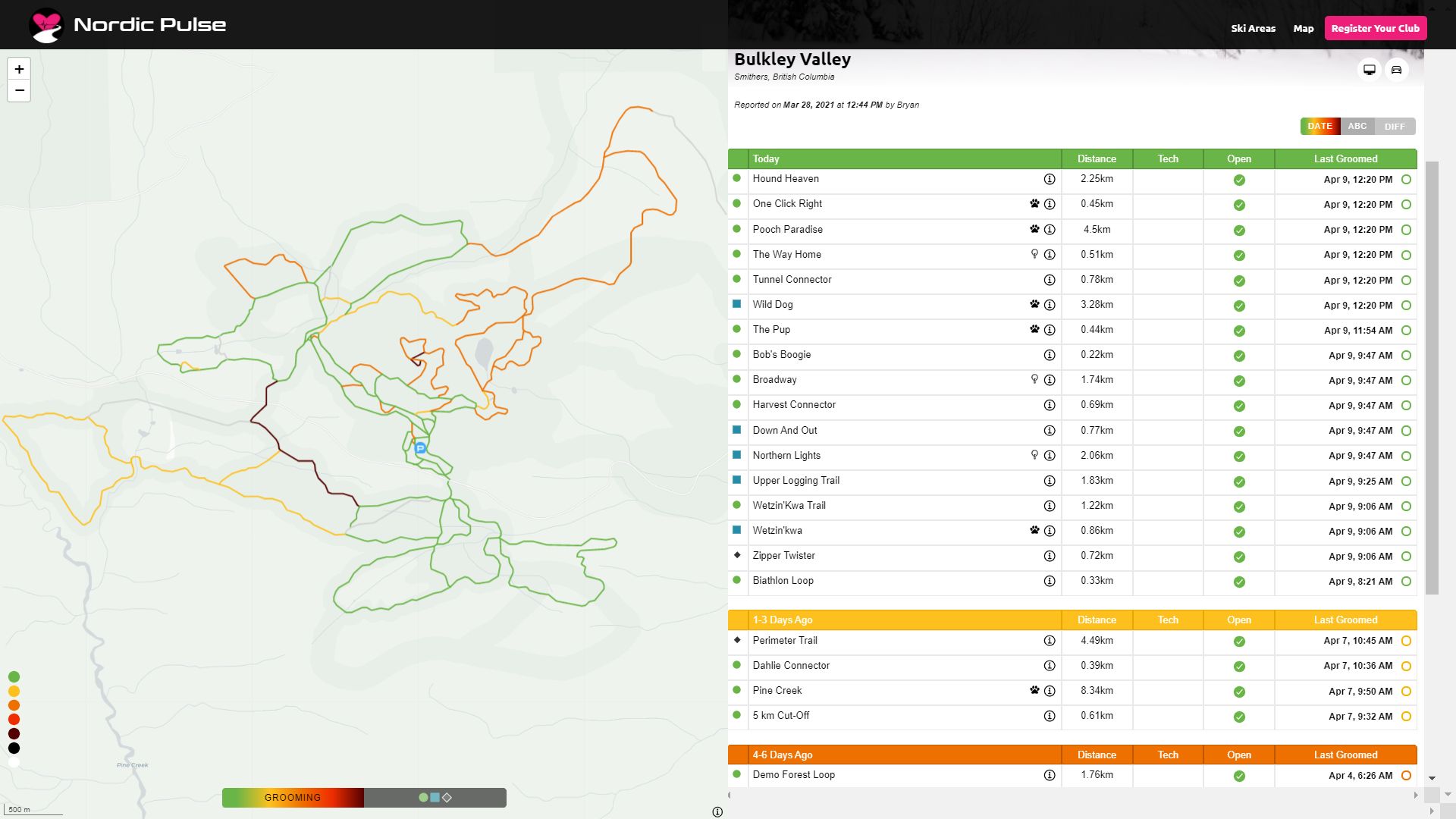 Machines
Our favourite tracksetter is the PistenBully. It is a complex machine with many moving parts operated by hydraulics, so some breakdowns are to be expected. Brant, Patrick (and sometimes Zeph) work hard to keep it in good condition and fix it when necessary. The PistenBully is supported by our fleet of smaller machines and our crew of volunteer operators. Smaller machines are the best choice in early-season and some late-season conditions. They are also used mid-season as backups for the PistenBully or as supplemental groomers to increase what can be done in a day. Our fleet expanded this year due to a hugely successful club fundraiser that paid for a tracked quad and a Gaming Grant that paid for a new G2 Groomer that can be pulled by the Skandic or quad. The Tiddtech G2 is like the Ginzu Groomer but better for some snow conditions.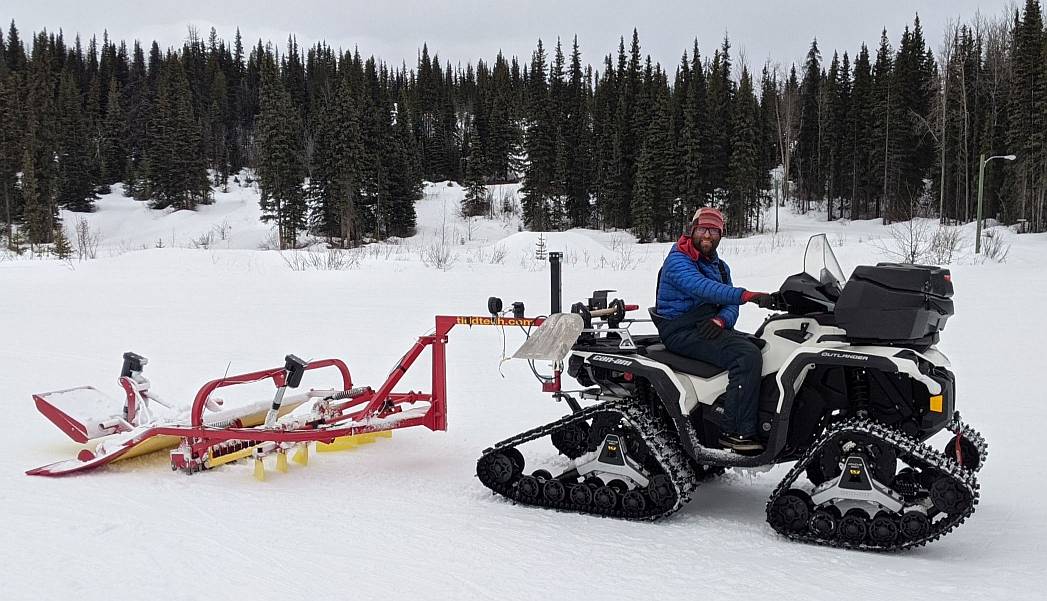 New this year is a Grooming FAQ page on our website. It addresses a lot of the questions we hear from skiers.
Our current fleet and our strategy of proactive maintenance is currently working well for us. We are able to groom our current trail network and we are able to handle short periods of machine downtime. However, we don't have the capacity to groom more than what we did this year and we don't have any fallback plan for any major, long-term problem with the PistenBully. The club is currently looking into practical options and funding strategies to improve the reliability and capacity of our grooming fleet.
The club's management plan describes our current grooming equipment strategy and will be updated when we have a new strategy. On our website, find Bylaws, Policies & Plans under the Our Club menu.
Tracksetter Garage
Our old machine shed is long past its best-before date. Providing a dry, heatable building for the PistenBully and protected space for other machines is a priority for the club. The concrete slab foundation was built last year with a big volunteer effort. Funding is now in place from Wetzin'kwa Community Forest, Northern Development Initiative Trust, Gaming Capital Projects program, the club fundraiser, and sponsors Pretium Resources (Brucejack Mine) and Seabridge Gold. The large bay of the old machine shed will be torn down and replaced with an open carport-style shed attached to the new garage. We should have the new structure ready for next ski season. The remaining two bays of the old machine shed will be upgraded next.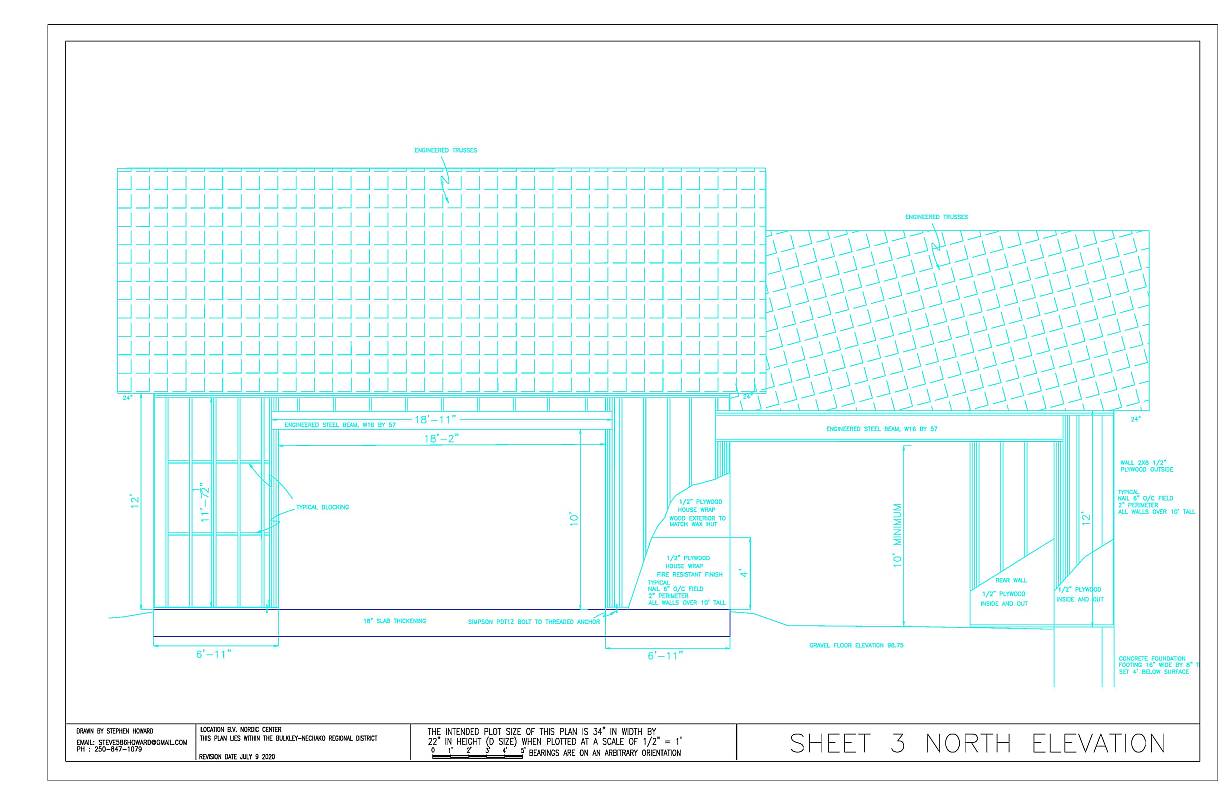 Wildfire Risk Reduction
BV Nordic Centre operates within the Wetzin'Kwa Community Forest and we have had a good working relationship. As part of our regular discussions with the community forest, we learned more about the current and planned Wildfire Risk Reduction (WRR) treatments in the area. The community forest is collaborating with the Province to create a shaded fuel break along Hudson Bay Mountain Road, including the section of road adjacent to the BV Nordic Centre. The club supports the objective of reducing wildfire risk and is working with the Community Forest to ensure the treatments are carried out in a way that maintains a quality skier experience.
Key points from our initial discussions:
Compared to the current logging farther up the road, the areas adjacent to the Nordic Centre can be treated with less impact due to more favourable terrain, forest type and existing openings.
Community Forest staff are aware of the values we want to protect and will engage club officials for site visits during the assessment stage in May.
The Club would like to consider Fire Smart treatments around the lodge. This will not be part of the Community Forest's WWR project, but the Community Forest will look for ways to cooperate and possibly assist with the Club's Fire Smart efforts.
The following information was provided by Wetzin'kwa Community Forest:
The proposed WRR project will create a shaded fuel break along the Hudson Bay Mountain Road. The shaded fuel break will be completed in stages with each stage being comprised of multiple treatment phases designed to address site specific fuel hazards and values. The first stage will extend from an area west of the Seymour Ridge Trail parking area to an area west of the core BVNC parking/lodge area. The second stage will link the project to the current WRR project being completed in collaboration with Mountain Resorts Branch.
Treatment Phases may include mechanical overstory removal where hazardous overstory/stand conditions are identified, manual thinning of understory trees to remove ladder fuels, manual pruning of retained trees to reduce the potential for crown fire initiation, and surface fuel load reductions to reduce the expressed fire behaviour. Every treatment phase is not likely to be required within every hectare of the project area but will be comprised of a combination of the various phases.
The current timeline for the project is as follows: WRR Field Assessments completed by mid-May (snow dependant), WRR Prescription Development and Layout Activities completed by mid-June, proposed Treatment Implementation commencing July 15th.
Treatment implementation will be carried out in the summer where non-sensitive sites are identified or where manual treatments will adequately address the hazardous stand structure/attributes identified. This will reduce impacts to winter recreation use of the Nordic trails. Winter treatment will be carried out where sensitive sites are identified, and mechanical treatments are required to address the hazardous stand structure/attributes.
WCFC will ensure to keep the BVCCSC informed of the treatment options available adjacent to One Click Right, Tunnel Connector and the lower parking lot. In past prescriptions, basal area reductions in mature stands have been less than 50%, however in immature or higher density stands basal area reductions have been close to 70%. After field assessments and initial data analysis is complete, WCFC will engage the BVCCSC to discuss the proposed treatment options and work to balance WRR objectives with the recreation values. At this time, we do not anticipate that the surface of the trails will be impacted by treatment activities. Should this change WCFC will reach out and work towards a solution with the BVCCSC.
Adequate levels of visual screening and sound buffering are expected to be maintained in areas between the Hudson Bay Mountain Road and the Pine Creek Loop trail due to topography and the anticipated post-treatment stand condition. Treatment specifications will be developed following field assessment and potential impacts to this trail will be reassessed following the analysis of field data.
More?
Thanks for your interest in the BV Nordic Centre!
General comments and questions about the club can be sent to feedback@bvnordic.ca. A club volunteer will try to respond if you have a question.
Send feedback about ski trails to trails@bvnordic.ca. Your comments are appreciated and will be read but you may not receive a reply. We want our groomers to spend their time on the trails.