COVID Policies
Bulkley Valley Cross Country Ski Club
UPDATED October 14, 2021
We can enjoy great skiing while staying safe during this pandemic by following these policies:
1. Anyone working at, using or visiting the Bulkley Valley Nordic Centre must:
Wear a mask within indoor public spaces at the BV Nordic Centre, regardless of vaccination status. (Masks can be removed to eat while seated at a table in the lodge.)
Avoid coming to the Nordic Centre when sick with a communicable disease or showing symptoms of COVID or other communicable disease.
Practice hand hygiene (washrooms and hand sanitizer will be available).
Respect physical distancing on trails and in buildings unless specifically invited to be closer (recognize that others may have different health concerns or circumstances and different risk tolerance)
Agree to allow the use of your name and contact information for COVID related purposes such as notifications and contact-tracing.
Acknowledge that there are risks associated with entering club facilities and/or participating in club activities, and that the measures taken by BVCCSC and participants, including those set out above, will not eliminate those risks.
2. Club activities, members and visitors must follow current direction from public health officials, including:
3. The lodge will be open for use by skiers and visitors if they follow the posted protocols (same as last season: mandatory masks, capacity limits, social distancing, frequent cleaning).

4. The Club's directors recommend vaccination to reduce the danger of COVID. Some programs and activities may have special requirements for participants, possibly including proof of vaccination. Vaccination is not mandatory to use Nordic Centre facilities.

5. For the safety of our employees and the people they need to interact with, the Club requires employees to be fully vaccinated as a condition of employment.

6. Events will be planned so that activities take place outside as much as possible.
The above policies are subject to change to comply with updated direction from public health officials. If provincial or regional restrictions are relaxed, the Club's COVID policies may be retained at the discretion of the Club's board of directors.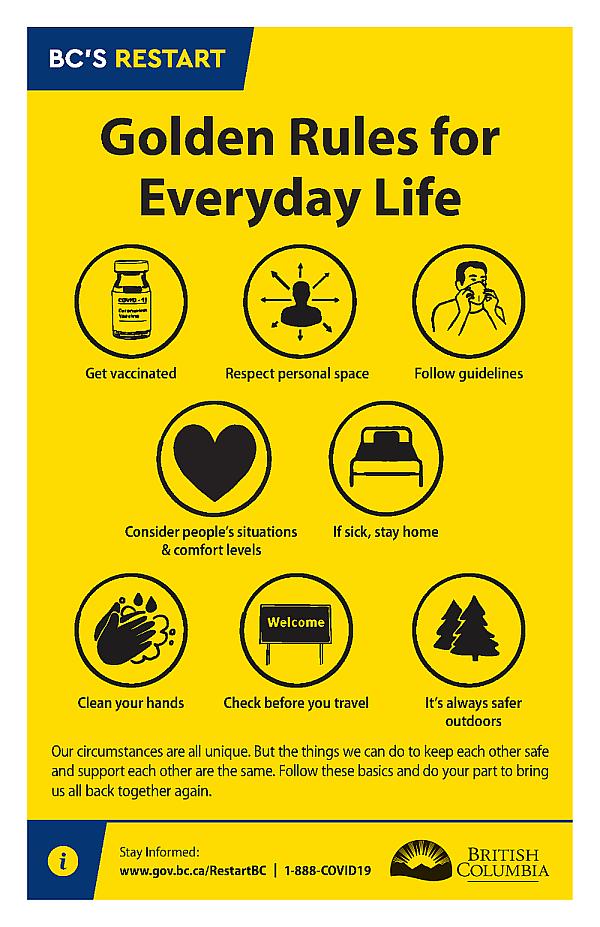 Other Guidance
Archived Information
During the 2020-2021 season, BVCCSC maintained a COVID Safety Plan based on requirements and guidance from public health officials, our provincial sport organizations, WorkSafeBC and Recreation Sites and Trails BC. When Step 3 of BC's Restart Plan took effect on July 1, 2021, our club's COVID Safety Plan was no longer required and is now archived below. WorkSafe BC and Public Health still expect us to take reasonable steps to manage health and safety, including communicable disease prevention.