Enjoy
the Skiing!
If you don't have a Seasons Ski Pass, you can glide along the trails with a Day Pass available at the BV Nordic Centre or at McBike in Smithers.
Weather
13/04/21
7:30p
Temperature
9.2 C
Wind
0.0 km/hr
Wind Chill
9.2 C
Today's Precip
(1 mm = 1-2 cm snow)
0.0 mm
| | |
| --- | --- |
| Yesterday's Precip. | 0.0 mm |
| recorded 11:30p | 12/04/21 |
Conditions
Apr 13, 2021 8:35 am (11 hours ago)
On my way to G2 on the skate lane , classic track still good. Enjoy!! News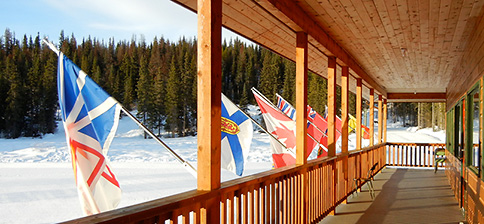 Wow, what a year. We started early (Nov 21) and it looks like we will be skiing through most of April. Here is an overdue (and possibly overly long) update about what's been happening, what's new, and what's planned for the trails, machines and buildings of your Bulkley Valley Nordic Centre. Read More...

Spring is here and valley-bottom activities are becoming possible again. But no need to give up on skiing yet. We expect to be grooming the ski trails when conditions allow until at least April 18. Spring weather brings freeze-thaw cycles so everyone should be looking for the Goldilocks window; that magical period of time when the snow is not too hard (icy) and not too soft (slushy). If wet snow freezes overnight, the air is often warm enough by late morning or mid-day to thaw the top layer of snow. So, check the weather conditions on our website and pick your times. Spring skiing can be great! Read More...

Our club has a COVID-19 Safety Plan for 2020-2021. Download it from this COVID-19 Information page. Read More...
Local Events
Great Snow. Great Trails. Great Times.