Nordic Centre Notes Jan 24, 2020
Friday January 24, 2020
These "notes" cover lots of details for those interested in how the Nordic Centre operates and recent challenges and happenings.
Written by Steve Osborn, Director of Nordic Centre Operations.
Key points:
The Bulkley Valley Cross Country Ski Club operates the trails and buildings of the Nordic Centre with the funds supplied by season pass and day ticket fees.
Challenges like weather and mechanical issues sometimes limit our ability to provide a great skiing experience.
Lots of factors are considered in grooming priorities, including weather, events, programs and usage.
We want you to email map@bvnordic.ca to tell us your favourite ski route and whether you prefer skate or classic on that route.
You can make our trails better by clipping those pesky branches and giving freshly groomed tracks time to set.
Recent lodge improvements include new lights for the downstairs prep room. Thanks to EECOL Electric for the lights and Josh Wimbush of HIS Electric for the installation.
About the Nordic Centre
The Bulkley Valley Cross Country Ski Club operates the trails and buildings of the Nordic Centre for the benefit of members and visitors. A few people get paid for some of the higher-demand work but volunteers still power most of the operation. Support from Recreation Sites and Trails BC and grants from Wetzin'kwa Community Forest, Northern Development Initiative Trust and the Rural Dividend help us with capital projects like trail works, signage and the purchase of equipment like the skid-steer. Day-to-day operation and equipment maintenance costs about $80,000 a year and which comes almost completely from season pass and day ticket fees.
Key people for Nordic Centre Operations (excludes ski programs and events):
Head Groomer: Patrick Dumais
Mechanical chief and advisor (past head groomer): Brant Dahlie
PistenBully Groomers on-call (current and recent years): Mark Williams, Steve Howard, Gus Kantakis, James Smids
Skid Steer and Ginzu volunteers: Michel Poulin, Kevin Kriese, Brant Dahlie, Geoff Recknell, James Cuell, Adrian De Groot
Caretakers: Gen Perkins and Michel Poulin
Buildings Manager: Patrick Dumais, buildings@bvnordic.ca
Trails Coordinator (summer works) and board director: Kevin Kriese, trails@bvnordic.ca
Director of Nordic Center Operations: Steve Osborn, operations@bvnordic.ca
Grooming Challenges
We had lots of challenges this year but through it all we strove to provide members with a good or great skiing experience.
Rain and minimal snow in November and December created low-snow conditions until about January 3. Summer improvements to trail surfaces and drainage plus gentle grooming with the snowmobile-pulled Ginzu groomer allowed the Nordic Centre to open December 5 with over 10 km of tracked trails. Early December is our normal opening date but we have never been able to open on so little snow. A bit more snow by mid December brought out the larger, PistenBully tracksetter. But grooming the thin snowpack continued to be a challenge until the January 3 snowfall. But then we had new challenges.
In past years, the club has tried to save money towards buying a new tracksetter; a 5 to 10-year savings program even with major grant support. In our 2019-2021 Management Plan, the board switched to a pro-active maintenance approach with the objective of investing in the current 2004 PistenBulley so that it could last indefinitely; like Beaver airplanes which were built in the 50s and 60s but many are still flying today. In the last two years, we replaced hydraulic pumps, track belts and hoses that were near end of life. Replacing those parts before they break will reduce breakdowns and save repair costs. But the PistenBully is a complex machine with many parts and one small but critical part put the machine out of action on January 3, during the big snowfall that otherwise allow us to open all of our trails. When the PistenBully was unavailable (Jan 3-7), we had several more snowfalls which increased the challenge of grooming with just the snowmobile-pulled Ginzu. Unfortunately, our snowmobile was not designed for a lot of slow, heavy pulling and would stop working every 2 hours; (overheating or other issues still being looked at). On January 8, we flew in a specialist mechanic and got the PistenBully working again. A few days later, the PistenBully had difficulty raising the tiller which meant it could not effectively back up. Grooming continued but cautiously to avoid any situation where backing up was required. Additional snow and then a week of very cold temperatures increased the challenge of catching up. After a moderate snowfall, it takes about 16 hours of PistenBully time to groom all 52 km of our trails. This week's repeated snowfalls require high priority trails to be re-groomed before grooming the longer trails. (Broadway had to be re-groomed 6 times within a few days) We finally caught up with all 52 km groomed on January 23. The next challenge will be the warm temperatures forecast for the next week. We try to avoid grooming if it is above 0 C. Wet sticky snow can jam the tiller and unclogging it is quite challenging when we can't lift the tiller.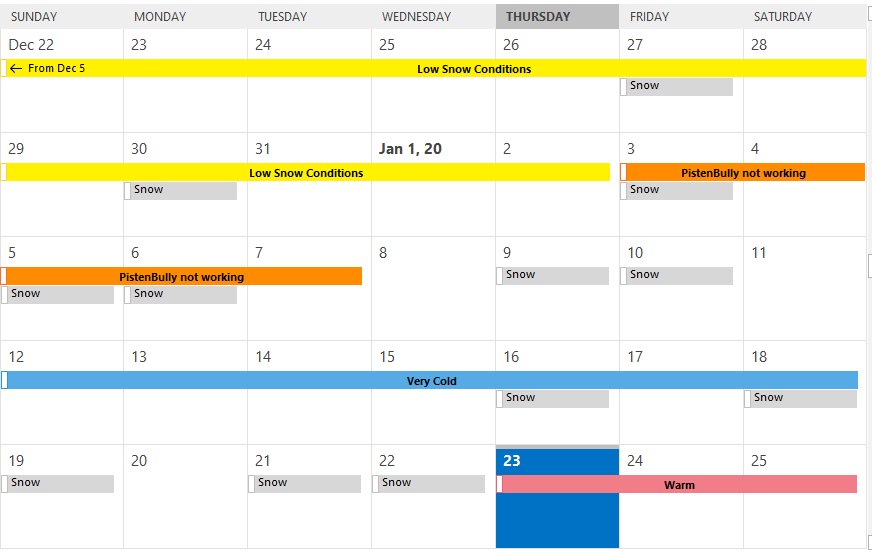 Considering the challenges, a lot of good skiing has been available. When you don't have the full back-story, it can be frustrating when there is lots of snow and not-yet-perfect trail grooming. It is not for lack of effort or money. We try to be as efficient as possible but so far there has been no budget limit on fuel or wages. Weather and mechanical problems* will continue to present ongoing challenges and our operators will keep doing their very best to get those trails in great shape as soon as possible.
*In recent weeks several BC clubs had their main tracksetting machine out of service for mechanical issues; including one Nordic centre with two new PistenBullys both broken down at the same time. Stuff happens!
Priorities
Lots of people rely on Nordic Centre trails and facility. Almost every weekend has Rabbits on Saturday and events and clinics on Sunday. On weekdays we have busloads of Ski S'Kool kids, racer training sessions and adult drop-in clinics. Occasionally, there is a non-club event at the lodge but it is always on the understanding that it is associated with skiing and that other skiers can continue to use the lodge during the event. And then there are the many un-scheduled skiers who come alone or in small groups to ski their favourite trails. Our operators are always striving to have all trails in great shape but when there are weather or mechanical challenges, they have to prioritize trails.
Trails are usually not a priority for grooming if there is up to 5 cm of fresh snow on the trail. (Skating on 4 cm of fresh snow won't break speed records but it can feel fantastic!) After a significant snowfall, access roads and parking lots are first priority but usually cleared by a separate operator using the skid-steer. The PistenBully's initial attack is usually Broadway, the lit trails and at least one dog trail. Next are easier trails like Logging roads and Pine Creek. Over multiple shifts, operators will continue grooming the rest of the trail system based on the needs of scheduled events, efficiency and time available. Harder trails like Perimeter and Down the Mountain will usually be last groomed. When repeated snowfalls prevent all trails from being skiable, the operator will be creative to provide routes that offer distance and variety.
What is your favourite route?
Our trails are named and mapped in mostly logical segments, but skiers rarely ski just a single trail. What is your favourite route? Your suggestions will help us add route recommendations to our digital and online maps. It will also be considered in grooming priorities. Email map@bvnordic.ca to tell us your favourite sequence of trails and whether you prefer skate or classic on that route. Use trail names, junction letters and/or a map image to describe the route. Trail maps can be viewed at bvnordic.ca/trails-and-facilities/map/ or www.trailforks.com/region/bulkley-valley-nordic-centre-31676/
Thanks for sharing!
Make our trails even better
Summer trail work, mowing and work bee brushing made it possible to ski on our early-winter low-snow conditions. But you have no-doubt noticed the branches leaning onto the trails. Dense sections were brushed with a chain saw but to take care of the scattered branches, the best method is hand clippers by a skier. Please consider taking clippers with you on your next ski. Clipping and tossing branches off the trail will really help. If you don't have clippers or forget them, there are usually some long-handled clippers in the furnace room.
General ways to help:
Skiers are requested to allow at least an hour for the snow to harden up after grooming equipment has passed. If you are skiing a freshly groomed trail and it feels softer than normal, you are probably messing up the grooming. Please ski an alternate route.
If a grooming machine approaches you while you are skiing, move well off the trail and ensure the groomer sees you. After the machine passes, stay to one side and if practical, take an alternate route at the nearest junction.
Try to preserve classic tracks when herringboning up hills or skate skiing by staying off the set classic tracks.
Snowmobile use by club volunteers (e.g. trail maintenance or event set-up) should only occur after consulting the head groomer when temperature is warmer than 0.
Our lodge keeps getting better!
Nordic Skills Development Program has various fundraising activities. Last year, some of their funds were used to buy an espresso machine that can be used for additional fundraising. Who, how and when it can be used is being worked on. Stay tuned.
New lights for the downstairs prep room were donated by EECOL Electric in Smithers and installed by Josh Wimbush of HIS Electric. Josh also provided other electrical work for us, including wiring for the espresso machine. Thanks Josh and EECOL!
New lockers are in the works. There is ongoing demand but we have limited space left and so we are working on a plan to address the need to store Ski S'Kool equipment, Rabbit gear, ticket checking vests and new lockers for club members. During registration, people who want a locker can put their names on a list for allocation of any vacant lockers. To be eligible, people need to be registered as club members before Nov 30 and there is a limit of one locker per family. This year, there were 11 eligible names for the draw and we were able to allocate 6 vacant lockers. A new list is made each year.
Questions or Suggestions?
Have a burning question? Are you wondering how you can help? Email Steve Osborn at operations@bvnordic.ca