Thanks for the New Garage
Tuesday May 2, 2023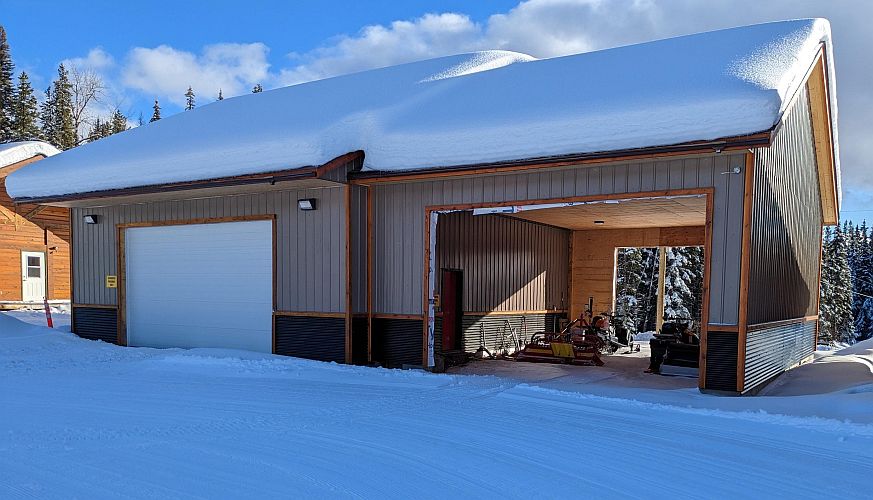 What a beautiful sight: our new tracksetter garage! This building replaced an old, unheated, dirt-floored shed that not only leaked but was also unstable. It was not good for our machines or for the people trying to maintain them at sub-zero temperatures. The new heated garage allows for better, safer and more environmentally sound maintenance of our grooming machines.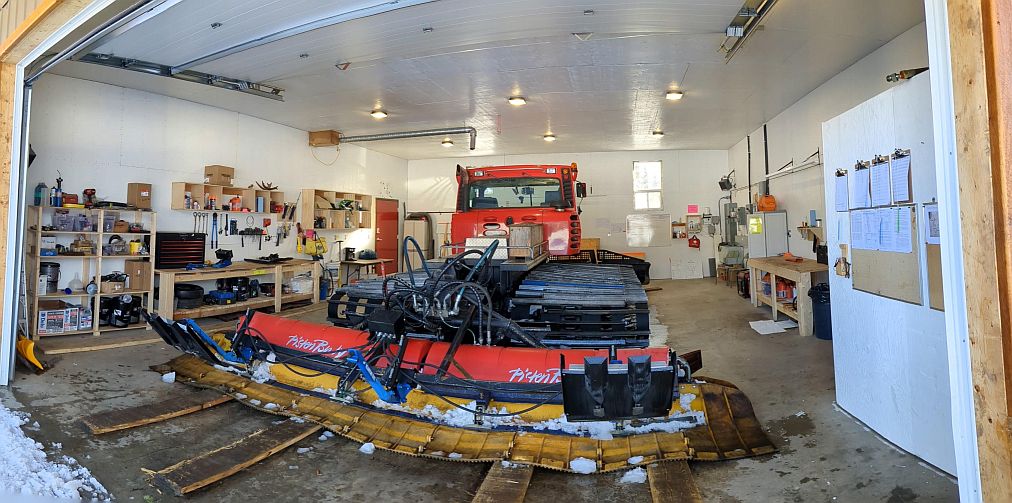 It all began back in the fall of 2020 and was fully finished in the fall of 2022. It is impossible to convey the enormous amount of work that went on during those two years. We owe everyone involved a huge debt of gratitude.
After a lot of discussion by many talented folks, Brant Dahlie and Stephen Howard turned the ideas into plans. Eerik Lilles of BV Engineering Services contributed professional time to produce the necessary engineering drawings. Ray Hollenberg provided valuable advice on environmental protection measures.Steve Osborn oversaw the financial aspects of the project but the real work on this multi-phase project was done by volunteers and contractors.
The first phase of construction was the slab foundation with an embedded melt water collector and oil separator. During the late summer and fall of 2020, Brant Dahlie, Stephen Howard, Wally Lesawich and John Schibli put in many hours along with help from Kevin Kriese, Jack Stratton and Ray Hollenberg.
The next phase was the construction of the main garage in the summer and fall of 2021. Brant Dahlie and Stephen Howard provided the leadership and much of the labour. They were helped by many volunteers including: Michel Poulin, Wally Lesawich, Gen Perkins, Paul Granlin, Irene Howard, Sue Harrison.
Phase three was the removal of the old tracksetter bay and the addition of the open garage. That work occurred in the summer-fall of 2022 by the competent crew at Glentana Construction. Our general manager, Jan Wengelin, oversaw phase three and finishing touches. He then organized all of the tools, equipment, signage and systems that we are now using to keep our machines running and our operators happy.
The project benefited from great service from local suppliers and contractors including: HIS Electric, BV Home Centre, Smithers Lumber, Summit Carpentry, Tricon Truss, West Fraser Concrete, Northern Glass, JR Overhead Doors, Glacier Electric, Leading Edge Construction, North Country Rentals, Vihar Construction, D West Sawmill and Westrun Mechanical.
Topping off the project was Telus' installation of PureFibre internet. As a contribution to the community, Telus extended the fibre optic cable all the way to our Nordic Centre, allowing us to provide high speed internet for grooming updates, coaching, training and events.
The total cost of the garage project was $252,700. We are pleased to acknowledge the funding provided by:
$86,700 Club funding ($40,000 reserves + $46,700 from fiscal 2021 & 2022 operating funds)
$68,000 Northern Development Initiatives Trust
$57,000 BC Gaming Capital Projects Grant
$16,572 member fundraiser
$15,000 Wetzin'kwa Community Forest Grant 2020
$5,000 sponsorship from Pretivm, Brucejack Mines
$3,000 sponsorship from Seabridge Gold
Professional services from Bulkley Valley Engineering Services
In kind support from West Fraser Mills, Pacific Inland Resources
Project Sponsors

| | |
| --- | --- |
| | |
| | |
| | |
| | |
| | |