Biathlon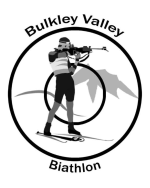 Bulkley Valley Biathlon provides an environment where athletes of all ages and abilities can participate and develop their biathlon skills with a great group of people.
Our first priority is safety, and our second priority is fun!
We are a group of volunteers passionate about biathlon. We can be reached at .(JavaScript must be enabled to view this email address).
---
What is Biathlon?
This Biathlon 4 Newbies video is a great primer!
Biathlon is a really fun winter sport combining skate skiing and shooting. .22 caliber rifles are used to shoot 5 targets at a distance of 50m. Shooting is done in both prone (laying down) and standing positions. Racers ski a certain number of laps, based on the race, and shoot between each lap. They must manage their skiing output on the course to be able to then accurately shoot at the targets between laps.
---
Our Programs
We offer both youth and masters programs. For more information on our programs, contact us at biathlon@bvnordic.ca
For the 2021-22 season, fees are set at $103 for all athletes.
Youth
The youth program is for athletes aged 10 - 18.
For winter 2021-22 we welcome any interested youth to come get an introduction to biathlon. This is a great opportunity for kids to try biathlon on for size!
Sessions will be offered from 1pm - 3pm on Jan. 8, 15, 29 and Feb. 12, 19, 26, with the possibility of more should there be interest and coach availability.
Participants can opt to join the Junior Development Program, in addition to biathlon, if they are interested in getting ski-specific coaching but it isn't a requirement this year.
For youth interested in racing, see the Racing section below.
Spring Into Biathlon Camp:
Youth aged 8-10 have the opportunity to try biathlon during a spring camp. If this is something you are interested in, please contact biathlon@bvnordic.ca.
Parent involvement:
Biathlon requires parental support, especially with beginner and younger skiers. Parents are expected to become familiar with the sport, its safety rules, to be available to attend practices on a regular basis and to help with set-up and take-down. However, being parents ourselves, we understand that your time is limited. So we will work with all the families to share in the responsibilities.
Required gear:
Cross-country skis (skate skis are recommended)
.22 caliber bolt action rifle: available for rent (see Things to Know section below)
Ammunition: can be purchased from the club (see Things to Know section below)
Masters
The masters program is open to anyone over the age of 18.
For winter 2021-22 we will be offering a 6-week coached program for up to 6 adults interested in learning the basics of the sport. Sessions will be offered on Jan. 8, 15, 29 and Feb. 12, 19, 26. Practice time will be either in the morning or afternoon and will be determined following consultation with those registered.
Those who already have experience with biathlon (i.e. have spent at least one winter participating in a biathlon program in Smithers or elsewhere) can join as an "Experienced Biathlete" and can practice when they choose, after obtaining permission from .(JavaScript must be enabled to view this email address).
---
Things to Know
You don't need to know how to skate ski to learn biathlon. Classic skiers are welcome to participate but will eventually want to learn to skate ski so they can keep up with their friends!

In addition to your club membership and program fees, you must obtain a Biathlon BC membership for insurance coverage.

The club has biathlon rifles for rent to accommodate all sizes. The rental is for one season. When you register on Zone 4, you can choose between two options. Please select either:

"Novice": generally rifles that are suited for newer and younger athletes, for $103

"Advanced": generally rifles that are suited for more experienced or older athletes, for $129

You will be required to purchase ammunition. A box of 50 rounds is between $5-7 and can be purchased from the club. You will use 1 to 2 boxes per practice.

It is not necessary to have a PAL (Possession and Acquisition License) at the beginning of the season to participate but we recommend that one be obtained during the season, if possible, to facilitate club rifle management.

With a PAL, you are permitted to transport a rifle to and from practice.

Without a PAL, you are not permitted to transport a rifle. Those without a PAL are able to rent a rifle but will only be able to use their rifle at the shooting range under supervision.

The Bulkley Valley Biathlon Program Overview provides more details about participating in our programs.
---
Racing
For those who are interested, Biathlon BC offers 3 BC Cup races each season. Races are for anyone aged 10 and older.
The 2021-22 season races are:
Dec. 18-19 in Whistler
Jan. 22-23 in Vanderhoof
Feb. 5-6 in Quesnel
We encourage all the program's biathletes to participate. These are great events that allow you to put all your skills together in a fun multi-age environment.
Please discuss with your coach if you'd like to know more and/or participate in one or more races.