Biathlon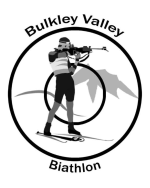 Our first priority is safety, and our second priority is fun. We provide an environment where athletes of all ages and abilities can participate and develop their skills with a great group of people. Many athletes will choose to compete, because it is challenging and enjoyable. Others will participate locally or for recreation; all are welcome.
Our club offers a biathlon program for kids aged 10 - 18+.
Younger kids can get a great introduction during the club's "Spring into Biathlon" each year.
Learn more by downloading the Bulkley Valley Biathlon Program Overview
Questions about our club's Biathlon program? Email .(JavaScript must be enabled to view this email address)
Adults are welcome to join Biathlon Masters. Training and other activities will be set up to match the experience level of those who join. To find out more .(JavaScript must be enabled to view this email address)